Let your cat express their natural hunting instincts!
A bored cat that sleeps all day is an unhealthy cat. It's important to provide them with stimulating toys they can use even if you're not there. This cat toy set includes colorful birds with bells that catch your cat's eyes and attention and provides exercise and stimulation. Hunting has been scientifically proven to relieve boredom, loneliness, stress, frustration, and anxiety in cats. 
• Prevents boredom & destructive behavior
Requires no interaction from you
We understand how frustrating it can be, to have to constantly buy new cat toys that don't end up being used. It can be very worrisome seeing your cat sleep all day, rather than playing and exercising. Cat toys can cost up to hundreds of dollars with most of them not satisfying our cat's preferences. 
With a self-holding base and a wire that flutters around as your cat paws and plays with the bird, it creates the perfect real-life bird impression that gives even more drift and attraction for your cat to play and attack.
The Interactive Bird Simulation Cat Toy Set is designed to keep your cat entertained while you're out of the house.
• keeps your cat entertained for hours
• Your cat can enjoy a happy and active life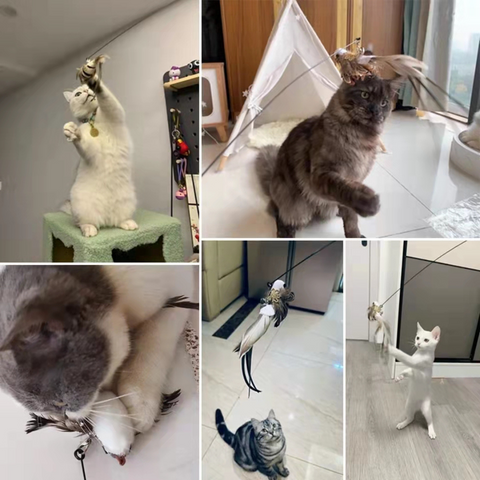 Keep your cats healthy
If you keep interacting with your cat regularly this cat toy will get the cat exercise and prevent obesity. Also, playing will increase the cat's dependency and strengthen the emotional bond between you.
100% safe for pets and veterinarian supported. Cats around the world are going CRAZY over this Interactive Bird Simulation! We guarantee your cat will love it! (Or Your Money Back!)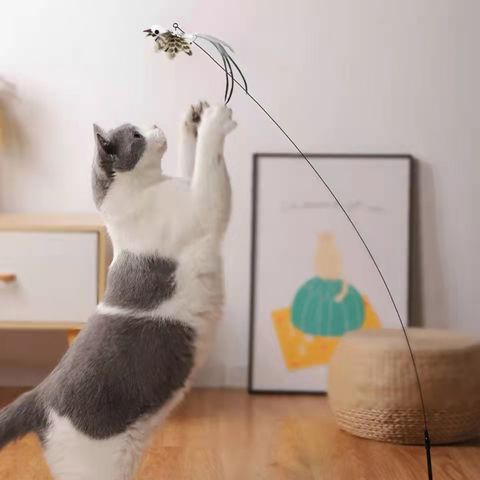 SPECIFICATIONS
Type: cats
Toys Type: Feather Toys
Size: Length approximately 107cm/42.1in 
Material: Feather, steel wire and suction cup